BALANS YOGA for individuals & groups

Private Yoga Classes in Brussel, Rixensard, Genval, Wavre and around Grez Doiceau
Public Yoga Classes only on-line
The advantages of regular YOGA practice are:
Strong immune, gland, nervous and lymphatic system

Ability to accept reality as it happens

Easier going and stress resistant
Yoga may not be to everyone's taste, however, with a dedicated teacher such as Anke who ascertains her students mood at the beginning…
Whether we arrive tired or stressed out, we always miraculously leave class feeling rejoiced, reloaded in a relaxed way. Anke has the intelligence to feel the needs of the group and delivers us an adapted class to the needs of the people in that moment.
Anke's classes are creative and inspirational and I learn something new every week. Her teaching direction, when it comes to asanas, is very particular, always giving options, progressions and corrections, helping everyone to achieve their full potential.
Anke is the most honest teacher I know. Her classes are spontaneous and full of passion. For me a class from her is a coming home to myself.
"I come because I feel in one piece again after Anke's yoga session. Even when I am exhausted, when my body aches, it uplifts my energy and spirits, opens my heart to gratitude while soothing any other issue… That is why I also feel a form of unconditional love from her to us… It is a great comfort and quite special… Thank you"
Thanks to yoga, I meet myself, I discover myself. Through the breath, Through the concentration on my physical sensations. I leave the external to go internal in myself. What a happiness! And what a prof!
Yoga for me is stopping the world and descending in my inner being, being grateful and learning to appreciate my…
Yoga for me is stopping the world and descending in my inner being, being grateful and learning to appreciate my…
Besides the fact that she teaches fun and good classes, they have improved my body sincerely. The back and shoulder…
Never before I have been looking forward to participate a yogaclass every week again. Every time my limits were a little pushed and I truly felt relaxed at the end of class. A rich experience.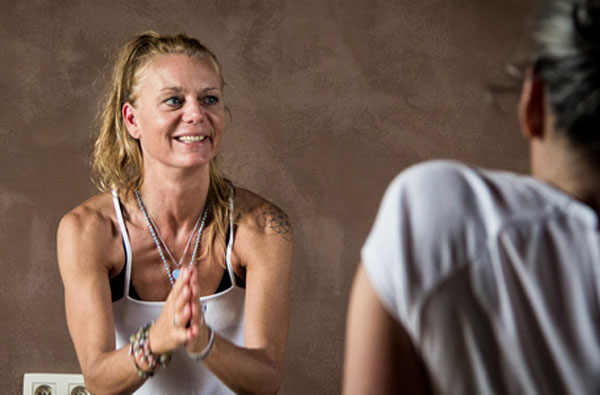 I am educated and experienced in many different schools of yoga which provides me with a vast toolbox to work with.
Thus the classes I give vary greatly from week to week. Whether in a group or individual classes, I assess the energy levels and state of mind of those with me. From there I am able to adapt the course to nourish the participants with what they are lacking or need more of.