Hi there!
As an experienced yoga teacher my goal is to take you on a journey.
A journey deep within yourself.
A journey that brings you peace of mind and a renewed lust for life.
Coming from an unstable catholic family situation i was pushed for an inner search for truth from a young age.
By age 16 i broke my back and my dear parents got a divorce.
A blessing in disguise.
This woke up the rebel in me and led me to make decisions that took me down various and exciting pathways and destinations around the world.
The gratitude this brought inspired me to make the decision years ago to take the ultimate journey inwards. This personal journey has brought me a comfort of being and form of existence that gives me great ease.
If you would feel "heavy" and/or stressed, realise that these feelings could be a result of your unconscious choices in life, based upon your programming, combined with the lifestyle-habits you have developed over time.
The way we see, hear, feel things is based on our belief-system which ultimately determines how we feel about ourselves and life in general.
Yoga and Meditation are the number one tools to change the way we see and experience life.
I am educated and experienced in different schools of yoga which provides me with a toolbox to work with. Thus the classes I give vary greatly from week to week. Whether in a group or individual classes, i assess the energy levels and state of mind of those with me. From there i'm able to  adapt the course to nourish the participants with what they are lacking or need more of.
I'm qualified as a fitness, shiatsu and chair massage instructor and am a certified Pilates and Yoga teacher.
Studies have been done in Holland, Belgium, Thailand and Himalaya's India where i received the "World Alliance Diploma for Teaching Yoga", to teach Ashtanga
(Paul Dallaghan)  and later my certificate to teach Kundalini (Kia Miller) combined with my TT from Ashley Turner: Yoga Psyche Soul  which has given me more tools to assess the psyche during the session.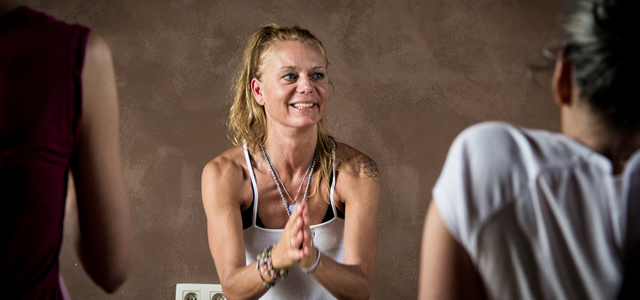 After having accumulated 18 years of experience of teaching individuals and groups in (sports) companies, yoga schools and private homes I find that yoga is more about getting to know yourself and creating a compassionate relationship with yourself then becoming souple or calm.
When working with people i use different tools to influence the body, mind and spirit…. such as word, music, breath, kria's, dynamic movement and postures (asana's) so that after the session you feel lighter not only in your  physical body, but in your whole being.
Certificates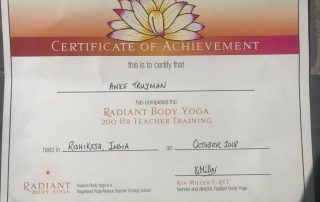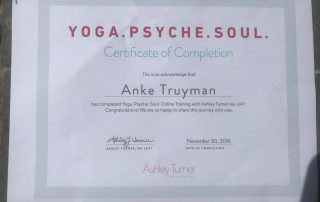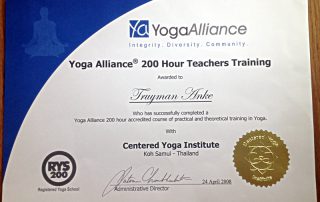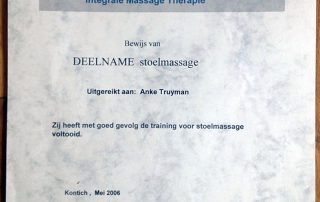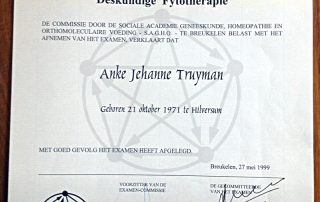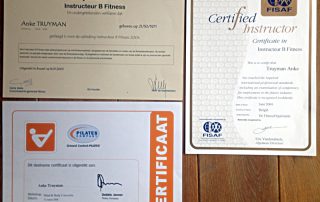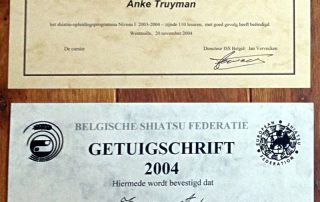 What students say about Anke
Thanks to yoga, I meet myself, I discover myself. Through the breath, Through the concentration on my physical sensations. I leave the external to go internal in myself. What a happiness! And what a prof!
Yoga for me is stopping the world and descending in my inner being, being grateful and learning to appreciate my…
Never before I have been looking forward to participate a yogaclass every week again. Every time my limits were a little pushed and I truly felt relaxed at the end of class. A rich experience.
Besides the fact that she teaches fun and good classes, they have improved my body sincerely. The back and shoulder…
Whether we arrive tired or stressed out, we always miraculously leave class feeling rejoiced, reloaded in a relaxed way. Anke has the intelligence to feel the needs of the group and delivers us an adapted class to the needs of the people in that moment.
Yoga may not be to everyone's taste, however, with a dedicated teacher such as Anke who ascertains her students mood at the beginning…
Anke is the most honest teacher I know. Her classes are spontaneous and full of passion. For me a class from her is a coming home to myself.
"I come because I feel in one piece again after Anke's yoga session. Even when I am exhausted, when my body aches, it uplifts my energy and spirits, opens my heart to gratitude while soothing any other issue… That is why I also feel a form of unconditional love from her to us… It is a great comfort and quite special… Thank you"
Yoga for me is stopping the world and descending in my inner being, being grateful and learning to appreciate my…
Anke's classes are creative and inspirational and I learn something new every week. Her teaching direction, when it comes to asanas, is very particular, always giving options, progressions and corrections, helping everyone to achieve their full potential.