Hallo daar!
Als ervaren yogajuf is het mijn doel om je mee op reis te nemen.
Een reis diep in jezelf.
Een reis die je rust en een hernieuwde levenslust brengt.
Komend uit een onstabiele katholieke gezinssituatie werd ik van jongs af aan gestimuleerd voor een innerlijke zoektocht naar de waarheid.
Toen ik 16 was, brak ik mijn rug en mijn lieve ouders gingen scheiden.
Een zegen in vermomming.
Dit maakte de rebel in mij wakker en bracht me ertoe beslissingen te nemen die me op verschillende en opwindende paden en bestemmingen over de hele wereld brachten.
De dankbaarheid die dit opleverde, inspireerde me jaren geleden om de beslissing te nemen om de ultieme reis naar binnen te maken. Deze persoonlijke reis heeft me een innerlijke ankering gegeven waar ik me erg veilig en prettig bij voel.
Als je je "zwaar" en / of gestrest zou voelen, besef dan dat deze gevoelens het resultaat kunnen zijn van je onbewuste keuzes in het leven, gebaseerd op je programmering, gecombineerd met de levensstijlgewoonten die je in de loop van de tijd hebt opgedaan.
De manier waarop we dingen zien, horen en voelen is gebaseerd op ons geloofssysteem, dat uiteindelijk bepaalt hoe we onszelf en het leven in het algemeen aanvoelen.
Yoga en meditatie zijn de belangrijkste instrumenten om de manier waarop we het leven zien en ervaren te veranderen.
Ik ben opgeleid en heb ervaring in verschillende yogascholen, wat me een grote gereedschapskist geeft om mee te werken. De lessen die ik geef, variëren dus sterk van week tot week. Of het nu een groep of individuele lessen zijn, ik voel het energieniveau en de gemoedstoestand van degenen met mij. Van daaruit kan ik de les aanpassen om de deelnemers te voeden met wat ze missen of meer van nodig hebben.
Ik ben gekwalificeerd als fitness-, shiatsu- en stoelmassage-instructeur en ben een gecertificeerde pilates- en yogadocent.
Er zijn studies gedaan in Nederland, België, Thailand en Himalaya's India, waar ik het "World Alliance Diploma for Teaching Yoga" ontving, om Ashtanga (Paul Dallaghan) te onderwijzen en later mijn certificaat om Kundalini (Kia Miller) te doceren in combinatie met mijn TT van Ashley Turner: Yoga Psyche Soul wat me meer tools geeft om de psyche te benaderen tijdens de yogales.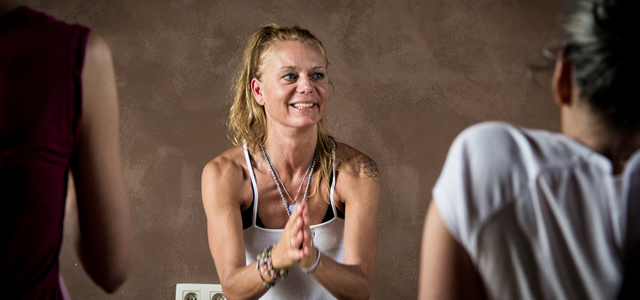 Na 18 jaar ervaring te hebben opgedaan met het lesgeven aan individuen en groepen in (sport) bedrijven, yogascholen en privéwoningen, ontdek ik dat yoga meer gaat over jezelf leren kennen en een compassievolle relatie met jezelf opbouwen dan soepel of kalm te worden.
Als ik met mensen werk, gebruik ik verschillende instrumenten om lichaam, geest en ziel te beïnvloeden…. zoals woord, muziek, ademhaling, kria's, dynamische bewegingen en houdingen (asana's) zodat je je na de sessie niet alleen lichter voelt in je fysieke lichaam, maar ook in je hele wezen.
Certificates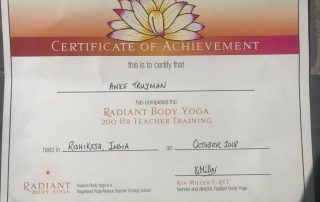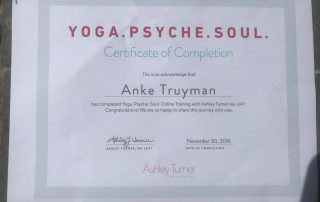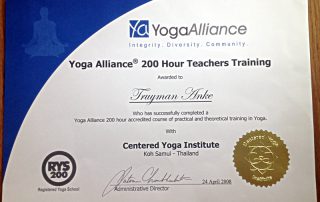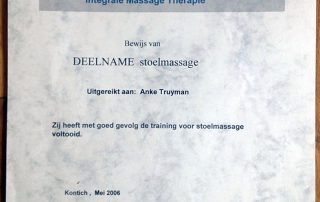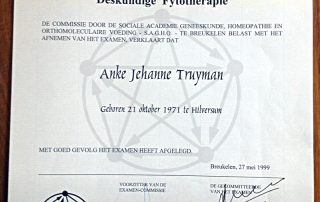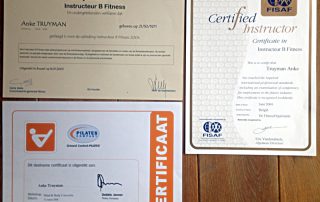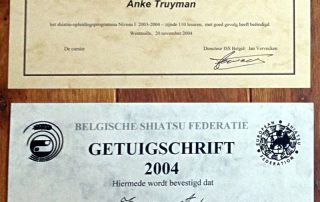 What students say about Anke
Whether we arrive tired or stressed out, we always miraculously leave class feeling rejoiced, reloaded in a relaxed way. Anke has the intelligence to feel the needs of the group and delivers us an adapted class to the needs of the people in that moment.
Yoga for me is stopping the world and descending in my inner being, being grateful and learning to appreciate my…
Anke's classes are creative and inspirational and I learn something new every week. Her teaching direction, when it comes to asanas, is very particular, always giving options, progressions and corrections, helping everyone to achieve their full potential.
Yoga for me is stopping the world and descending in my inner being, being grateful and learning to appreciate my…
Anke is the most honest teacher I know. Her classes are spontaneous and full of passion. For me a class from her is a coming home to myself.
Never before I have been looking forward to participate a yogaclass every week again. Every time my limits were a little pushed and I truly felt relaxed at the end of class. A rich experience.
Yoga may not be to everyone's taste, however, with a dedicated teacher such as Anke who ascertains her students mood at the beginning…
"I come because I feel in one piece again after Anke's yoga session. Even when I am exhausted, when my body aches, it uplifts my energy and spirits, opens my heart to gratitude while soothing any other issue… That is why I also feel a form of unconditional love from her to us… It is a great comfort and quite special… Thank you"
Thanks to yoga, I meet myself, I discover myself. Through the breath, Through the concentration on my physical sensations. I leave the external to go internal in myself. What a happiness! And what a prof!
Besides the fact that she teaches fun and good classes, they have improved my body sincerely. The back and shoulder…